WE ARE  ENTERING IN THE SPRING VHF/UHF Field day CONTEST 2017, Frequencys required 6M-2M-70CM-1296mhz- 2300mhz & 10ghz . A hill is not found as yet but there are a few in the mix 2017-2018.
There are the normal two more Field days to come Spring /Summer with dates to be advised. (pencil these in).
Spring Field Day  Date 25-26th November 2017  Venue (new trailer) TBA
Summer Field day…….Date  January 2018, Venue TBA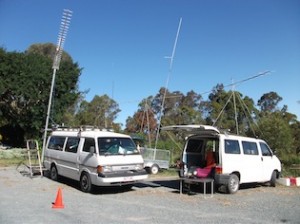 Past site @ Mt Cotton Nursery Qld Thks to VK4WRC
current rules are to be updated from the Grid square system to distance (klms) between contacts, are still not changed.
Pleases contanct either :
VK4MIL (Col) 0421250447
VK4CRO (Ron) 0468375544
VK4NEF (Eric) 0733905664
for more information or just to join in on the event.