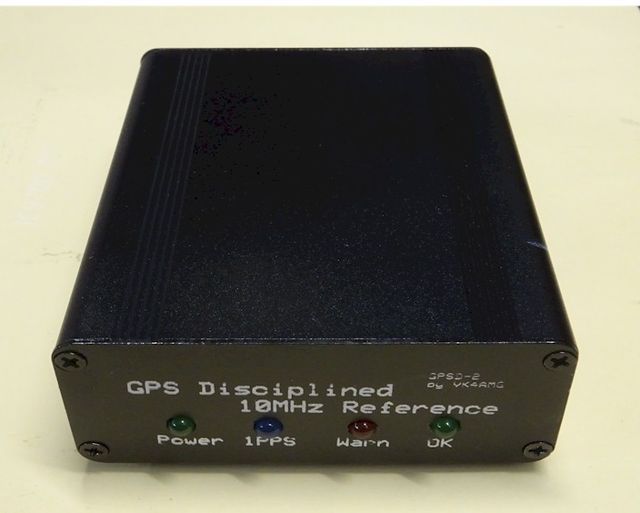 The OCXO-3 is a stand alone oven controlled crystal oscillator for 10MHz output. The Frequency Reference is designed to provide frequency stable locking for microwave digital phase locked loops, VHF/UHF radios and test equipment. Four outputs may be sine or square wave. (See Information Sheets below for more information)
The GPS Disciplined GPSD-2 module (shown above) is a low cost consumption stable oven controlled crystal oscillator (OCX0) with a Neo6 GPS Receiver and Arduino Nano. Stable firmware from popular GPSD-1 module (Sold Out). (See Information Sheets below for more information)
The Amplifier DAMP-03 is a member of the VK4AMG 1010MHz Reference family, provides distribution of one 10MHz Reference to up to five outputs. The module is a linear unity gain amplifier that provides sine wave 10MHz outputs up to +10dBM. (See Information Sheets below for more information)
Information Sheets
OCXO-3 Reference Guide & Specifications – Click Here
What makes this OCXO-3 different? – Click Here
GPS Disciplined 10MHz Reference (GPSD-3) Reference Guide & Specifications – Click Here
What makes the GPSD-2 different? – Click Here
10 MHz Distribution Amplifier DAMP-3 Reference Guide & Specifications – Click Here
Complete Item List & Pricing – Click Here
OCXO-3
GPSD-2  Disciplined.
Direct Deposit: BSB: 06 4159A/c#: 00904288 ACC Name CBRS. freight cost will need to be added. Please advise us after your purchase.@ Email with a receipt and your delivery details. Thank you for your order and assistance.
Email us here : [email protected]
Buy direct from George VK4AMG / or place an order Then email us with delivery delails after your direct deposit, or use PayPal.
Please be advised that all funds raised in all our promotions go directly to the running of our Club.