City of Brisbane Radio Society inc.
Meets Mt Gravatt Campus every 2nd Tuesday of the month from 6:00pm to 9:00pm in, B Block, Level 3, Room 3.16.  at the Mt Gravatt TAFE.
We are a incorparated Amatuer Radio Club (CBRS)
For more information, see our 'JOIN OUR TEAM' page
The Club was founded as an interest group in the 70,s with interests around with Citizen Band craze, before its introduction to Australia. Naturally this led to amateur radio, our Club to finally affiliated with the WIA. Most members attained amatuer callsigns via instruction at Mt Gravatt TAFE (no courses are available these days) . Our Club competes in many of the gazzetted WIA contests and has won several outright. John Moyle Memorial Field Day Contest, also the VHF/UHF section several years running.
Some of the stories told by the longer term Club members, have spoken about many times, in which on one of the field day contest at Mt Wolvi near Gympie. After setting up and operating for most of the day and half the nite, they were first hit by a cyclone, then visited by a very large bull in their sleeping quarters , yes a bull "no bullshit they say," so I guess its true.
A Renewed interest in field day, has started a few trips away to some of the scenic hill tops, available in northern NSW and southern Queensland, Coran, MT Wolvi, Byron Bay to name a few; with many others operated. We were using a private property near Gatton (Egypt Hill) with a height of 600 metres, for VHF/UHF Field days.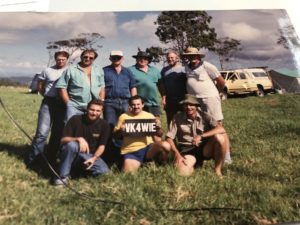 Our members like to get involved with all aspects of ham radio and have been building projects and updating
field day gear as the need arises
As a Club we are aways conducting ourselves in accordence to our management statement and the ACMA regulations. This being the reason for the clubs existance is to have fun and expand our hobby, for all members new and old. Please view our Club Members list for showing our new and past members.
We are also searching for a club house; as to further our club projects and help with our disabled members.
Club Contact Details
City of Brisbane Radio Society –

 [email protected]
President:   John Collins (VK4IAA) – email    [email protected]
Executive Committee
President:  John Collins (VK4IAA) – email [email protected]
Vice President:  Ron Croucher (VK4CRO) – email [email protected]
Secretary:  Peter Vincent (VK4APV) – email [email protected]
Treasurer:  Craig Johnston (VK4CJM) – email [email protected]
Club Contest Co-ordinators
Craig Johnston (VK4CJM) and John Morris (VK4MJF) – email [email protected]
OUR CLUB REPEATERS ARE:
2M (147.350. -600KHz offset 147.950) with 91.5 tone
70cm (438.275. -5000KHz offset 432.275) with 91.5 tone

(Being Updated)
6m (53.975. -1000KHz offset 52.975)
NOT OPERATIONAL