Vk4ksy has construction and fit out on is shack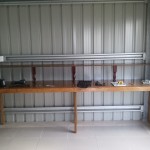 G'day boys
Have enclosed a photo of the operation bench and the shelve above. Good old dump shop 2.4 mts MDF $5, Bunnings $4.60 for bench legs and four legs off an old table and operating area.
Just need to move radio's in and add new coax extension.
Still no tower, 8 elm at 4 mts.
Radio room is 6×6 mts less XYL painting section. Nice tiled floor.
I hope you don't think its an over kill for the bush. LOL
Recent upgrades to the shack, has prompted comments like this " Go the vertical antennas up ready for Summer. Working ok Gympie and Bundy full scale."
Six metre next.